Increase trust, and ensure your customers make a purchase they love.
Make it easier for your customers to buy what they are searching for by showcasing and comparing products and their features. Be viritually together with them and look at products in your online store. You may share products with them and even see what products they are looking at in real time.
Guide and support your customers through the checkout process and
help them complete their purchase as you would in a regular store. No links and no new windows – it all happens in your regular checkout process.
STEP-1
One click install on your e-commerce site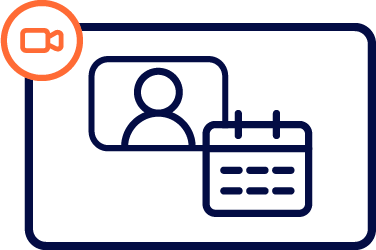 STEP-2
Go live or have your customer book an appointment
STEP-3
Let your customer continue shopping in real time
While some people think that video shopping is about embedding product videos on an ecommerce site, this is a misconception.

Video shopping is really about sales agents making true connections through the medium of video with online shoppers and potential customers. It is sharing personalized recommendations, giving advice and showcasing products.

With live video calling and face-to-face video creation, brands can elevate the eCommerce experience they offer to an unprecedented level.
VClerk is doing exactly that, enabling you to provide your customers with a more personalized experience and
a face-to-face service as they would enjoy in a store.
Sign up for our VClerk newsletter to receive product, industry updates and tips.
increase in online conversions
of shoppers say online video has given them inspiration for their purchase
of shoppers say that having a real human demonstrating the product is eliminating the hesitation
of all video calls are accepted, 2/3 from desktop and 1/3 from mobile devices
video chats vs. text chats only = 1-0
Video chats convert at twice the rate of regular chats while offering online shoppers the next best thing to actually being in store.
"Really, really great to be talking with people like this! Both the customers and I enjoy it a lot. Especially nowadays when you don't get to meet anyone"
"Super function for us in order to reach out to our customers face2face as we are kind of a niche-store that puts personal service and product-information as top priority."
"This app is making customer service reach new heights! Simple to use and a great way to connect with customers. One step closer on making our ecommerce site feel like walking in to our local store."
"It really helps eliminate seconds guesses if our customers can talk to us via video… We have made more money thanks to the app and easily pays for itself. I highly recommend VClerk."
Introducing VIDEO CHAT, APPOINTMENT BOOKING and CHAT! VClerk is becoming EVEN better – we are constantly developing new features and…
Jewellery experts and good salespeople are simply irreplaceable When it comes to jewellery shopping, the demand for virtual appointments was…
… And why she kept using the same tool after the lockdown For many businesses, lockdown has been harsh. And…